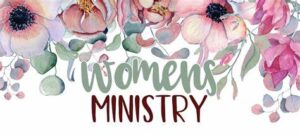 Community
We desire to be a community of women where one generation displays God's love to the next generation and that He would be glorified through it. We seek to be women who "do life together" in a biblical context.
Encouragement
Relationships are integral and vital to our lives as women. We want to provide an encouraging environment to equip and challenge each other to live out our God-given potential on a daily basis.
Foundation
We seek to do everything around a biblical foundation. We want to serve others alongside you, giving you the tools you need to be a confident follower of Christ proclaiming him boldly and loving others.
How to Get Started
We meet in the Computer Lab every Wednesday night at 6 p.m. If you have any questions call the church office at (409)384-2527 or email Michelle Webb @ mossyoakprincess73@gmail.com.

We would love for you to join us for weekly bible studies, prayer, retreats, luncheons, biblical mentoring and much more.
No matter what season of life you are in, you are welcome here.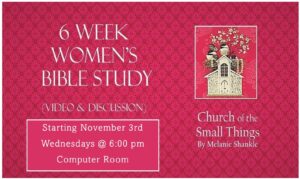 It doesn't matter how old we are or what kind of work we do, we've all wondered at times, "Does my life really matter?" Do the everyday events and messy moments make any kind of difference? Is it okay to be fulfilled by the simple acts of raising kids, working in an office, and cooking chicken for dinner? This six-session video Bible study with bestselling author and popular blogger Melanie Shankle speaks directly to the heart of women of all ages who are longing to find significance and meaning in the normal, everyday world of attending class on their college campus, driving carpool to soccer practice, cooking a meal for their family, taking care of a sick loved one, or a million other things. Melanie offers women the opportunity to embrace what it means to live an abundant and incredibly meaningful life finding beauty and laughter in all the small things right beneath the surface of every moment. This study guide is full of relatable Bible teaching and includes video notes, group discussion questions, partnered or individual activities, and between-session personal studies.