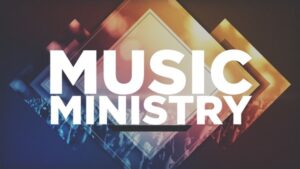 WORSHIP
Encouraging and victorious are two words that describe the atmosphere of worship here at FBC. We strive to lead the congregation to respond to God in an outward way as they reflect on His goodness and His mercy. The quality of worship that we present to God is not defined in the music we sing or how innovative we try to be.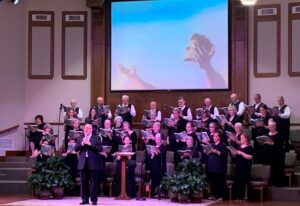 ADULT CHOIR
First Baptist Church offers a variety of ways for you to be involved in our Music Ministry. The Adult Choir is the primary worship-leading group of our church. It is made up of people who desire to serve the Lord by using their voices for Him. In a typical Adult Choir Rehearsal, you will experience a time of worship as we pray, fellowship, and rehearse together. We sing songs of various styles and try to accomplish a timeless atmosphere as we lead our congregation. Varying levels of musicianship are welcome so don't be afraid to try it out. As a general rule, if you can match pitch and blend with other voices, you will be a successful choir member. We invite you to come sing with us every Wednesday night at 7:00.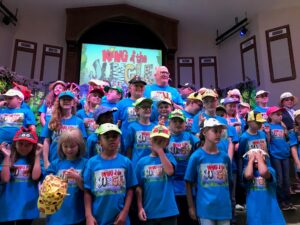 CHILDREN'S CHOIR
We also offer opportunities for children to learn to use music in worship experiences. Our Kidz Khoir rehearses during the school year on Wednesday nights at 5:30, and present special music and musicals during the year. In addition, we have a week-long summer music camp called SMAK (Summer Music Activites for Kids), where the children prepare and present a complete musical at the end of the week.
If you have a "song in your heart" there is a place for you in our Music Ministry.
"I will praise the Lord all my life. I will sing praise to my God as long as I live." —Psalm 146: 2