The Children's Ministry at First Baptist is committed to nurturing children grades K-6 into a personal, exciting, and growing relationship with Jesus Christ and equipping families for spiritual growth.
As children quickly grow stronger and taller in body, they also grow up in heart and mind. Each day our children are closer to forming the belief system that will guide them through life. Their belief system is formed by all they have absorbed from parents and others, good or bad. We live in challenging times as parents compete with the secular world for the hearts of their children. The days of our strong influence as parents are diminishing as our children grow toward independence.
Now is the time to teach our children more than goodness; we must teach them godliness. The difference is a personal relationship with God through Jesus Christ. That relationship is the basis for our foundation and belief system.
Sunday Mornings
Sunday mornings we have grade-specific bible studies called D-6. Following Sunday School, your family can worship together in our 10:30 am worship service.
Wednesday Nights
Kid Konnection in the Family Life Center at
6 p.m

for Kindergarten-6th grade. The children play games, have bible study, and sing songs!
Special Events
We have special events and activities throughout the year. Summer camps, field trips, events, etc.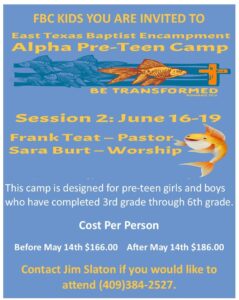 If your child is in 3rd – 6th grade and would like to go to Pre-teen Camp at East Texas Baptist Encampment contact Jim Slaton at (409) 384-2527